The ENACT Act
Wysiwyg
To ensure future treatments and means of prevention are effective in all populations, Alzheimer's and other dementia research must be reflective of all Americans.To address this issue, AIM worked with bipartisan congressional champions to develop the ENACT Act in the 117th Congress. This important legislation was also supported by other stakeholders.
Key provisions of the bipartisan Equity in Neuroscience and Alzheimer's Clinical Trials (ENACT) Act, included in the Fiscal Year 2023 budget in December 2022, are advancing this goal. 
The ENACT Act is working to increase the participation of underrepresented populations in Alzheimer's and other dementia clinical trials by expanding education and outreach to these populations, encouraging the diversity of clinical trial staff, and reducing participation burden, among other priorities. The underrepresentation of these populations not only hinders the ability of researchers to understand health disparities, it also restricts their knowledge of how an approved therapy or diagnostic may affect the populations most likely to need the treatment. Learn more about this bill from one of the lead sponsors, Rep. Blunt Rochester (D-Del.).
While we have much more yet to accomplish, we can join with our advocacy network to celebrate this significant progress that will help ensure that no one is left behind, especially communities most affected by Alzheimer's and dementia.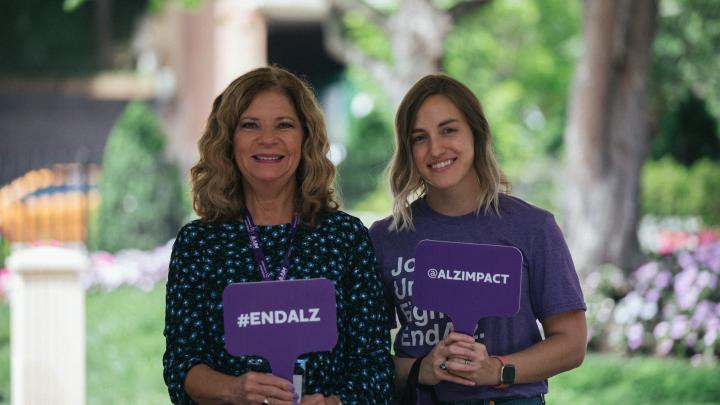 Be a Champion in the Fight to End Alzheimer's
Our voices are stronger together. Help AIM advance legislation to improve the lives of people impacted by Alzheimer's and all other dementia.
Share your story with elected officials
Engage on social media
Write a letter to the editor
Federal Priorities
A restrictive Centers for Medicare & Medicaid Services (CMS) policy that only applies to those living with Alzheimer's disease is blocking access to FDA-approved treatments. CMS must reverse its unprecedented decision that denies Medicare coverage of current and future treatments for Alzheimer's.
The bipartisan NAPA Reauthorization Act and the Alzheimer's Accountability and Investment Act would build on the progress made over the last decade by continuing to promote rapid research and improve the delivery of clinical care and services for people living with Alzheimer's.