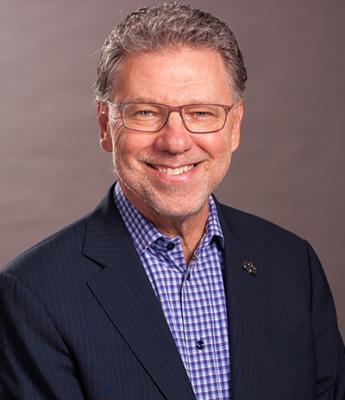 Harry Johns
President and CEO
Harry Johns is the CEO of the Alzheimer's Association, the global leader in Alzheimer's and dementia information, advocacy, research and support.

The Alzheimer's Association has created and driven the public discussion about Alzheimer's in America, raising the crisis and its devastating human and economic consequences to unprecedented levels of recognition and support. The Association provides care and support 24 hours a day, 365 days a year, with local services across the country, its free Helpline and robust information for millions each month through its website. The Association has also achieved significant public policy advances, including the passage of the National Alzheimer's Project Act and the creation of the National Alzheimer's Plan, the passage of the Alzheimer's Accountability Act, securing Medicare coverage for care planning, and increases in federal research funding that put investments at an unprecedented $2.3 billion, including a $425 million increase in federal fiscal year 2019. The Association's global leadership in research includes more than $110 million currently invested in research in 18 countries, breakthroughs that have changed the trajectory of dementia research, and serving as a leading convener, annually holding the world's largest gathering of Alzheimer's and other dementia researchers as well as many other leadership meetings.

According to InCites Clarivate (formerly Web of Science), the Alzheimer's Association is a global leader in Alzheimer's research, ranked first among all nonprofits worldwide for its impact and third among all organizations, after only the U.S. National Institutes of Health and the Chinese government. Philanthropedia has called the Association the most influential nonprofit for aging issues in its most recent ranking of the field. Since The Nonprofit Times first began evaluating nonprofit employers in 2010, the Alzheimer's Association has been consistently ranked one of its Best Nonprofits to Work For, including rankings of 1st or 2nd among large nonprofits eight years in a row.

Harry was appointed by the Secretary of Health and Human Services to serve as a member of the Advisory Council on Alzheimer's Research, Care, and Services from 2011-2017. Following the 2013 G8 Dementia Summit, he was named to the World Dementia Council, and in 2017, he was elected to a two-year term as its chair. He also serves as CEO of the Alzheimer's Impact Movement (AIM), the Association's advocacy arm, and on the Board of Research!America. Prior to joining the Association, he was one of four members of the executive team of the American Cancer Society. Harry is a graduate of Eckerd College and Northwestern University's Kellogg School of Business.