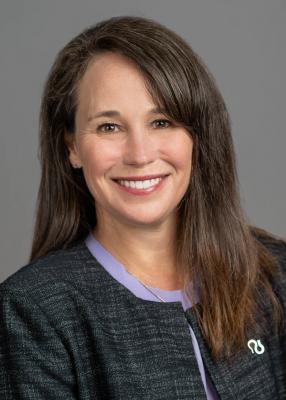 Joanne Pike, DrPH
Incoming President and CEO
As of January 2023, Joanne Pike, DrPH, will be the President and CEO of the Alzheimer's Association®, in addition to her current role as president. She is responsible for the delivery of all services to achieve the organization's vision of a world without Alzheimer's and all other dementia. She will also be President and CEO of the Alzheimer's Impact Movement (AIM), a separately incorporated advocacy affiliate advancing and developing policies to overcome the disease. 
Since joining the Alzheimer's Association in 2016, and in her current role as president, Dr. Pike has overseen the Association's global efforts to accelerate research; enhance care and support; advance public policy; strengthen diversity, equity and inclusion; increase concern and awareness, and grow revenue. 
Dr. Pike previously served as chief strategy officer of the Alzheimer's Association, guiding the implementation of the strategic plan throughout all elements of the organization. Prior to that, she was the Association's chief programs officer and was responsible for overseeing care and support services offered to all those affected by the disease; outreach aimed at creating partnerships with health systems, physicians and other health care professionals; long-term care initiatives focused on person-centered care delivery models; and growth strategies to reach more individuals through quality improvement, education, and support programs and services.
During her 25 years in progressive leadership in social support and public health, Dr. Pike has developed and executed successful health-focused initiatives while implementing revenue strategies to support those outcomes. Throughout her career, she has successfully leveraged public and system policy to advance such public health outcomes with a particular emphasis on outreach to underrepresented and underserved communities.
Prior to joining the Association, Dr. Pike spent 13 years in leadership positions at the American Cancer Society and three years as executive director of the Preventive Health Partnership, a collaboration among the American Cancer Society, the American Diabetes Association and the American Heart Association aimed at preventing cancer, diabetes, heart disease and stroke. Dr. Pike holds a doctorate in public health leadership, focused on health policy and management, from the University of North Carolina at Chapel Hill.