Delaware State Alzheimer's Plan Overview
Wysiwyg
In 2012, the Alzheimer's Association Delaware Valley Chapter coordinated a meeting with Governor Jack Markell, Secretary of the Department of Health and Social Services Rita Landgraf, and Director of the Division of Services for Aging and Adults with Physical Disabilities (DSAAPD) Bill Love to discuss the importance of mapping out a strategy to address Alzheimer's disease in Delaware, including through the development of an Alzheimer's state plan. The Alzheimer's Association and DSAAPD established a Task Force of caregivers, advocates, and professionals representing a broad range of organizations. With support from DSAAPD staff, the Task Force published the Delaware State Plan to Address Alzheimer's Disease and Related Disorders in December 2013. Since the release of the Delaware State Plan, an Advisory Committee made up of a variety of stakeholders from the Alzheimer's community has been meeting to oversee the Plan's implementation.
Delaware 2022 Policy Priorities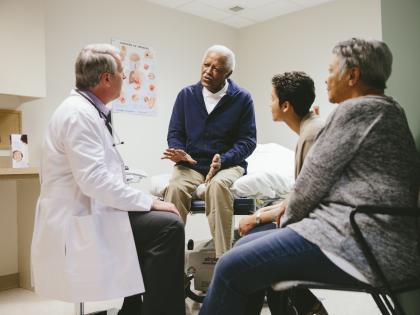 Wysiwyg
Drive Public Awareness of Risk Reduction
Age is the greatest risk for Alzheimer's and other dementias; with a growing population of Delawareans age 65 or older, there is a significant need to increase public awareness and understanding of cognitive decline as part of health promotion. The evidence is now sufficiently established that there are ways to reduce the risk of cognitive decline. This evidence establishes a scientific base so that the public health community can promote brain health across the lifespan. The Alzheimer's Association and our advocates are working to grow support for legislation that will require the Division of Public Health to incorporate evidence-based risk reduction/brain health messaging, consistent with the Centers for Disease Control and Prevention's (CDC) Healthy Brain Initiative, into existing public health campaigns.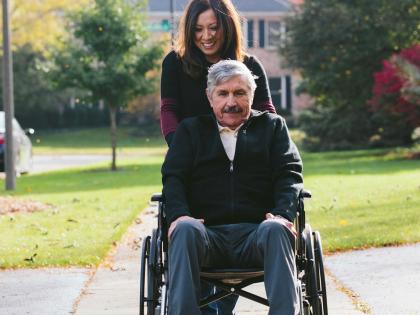 Wysiwyg
Update the Delaware State Alzheimer's Plan
Delaware state agencies administer a variety of programs critical to people living with dementia, including Medicaid, adult protective services, and health professional and facility licensure. However, these efforts are often siloed and lack coordination. To address this, it is critical Delaware updates the State Alzheimer's Plan, bringing all of the key state officials and private-sector stakeholders together to outline a comprehensive and coordinated approach to addressing Alzheimer's. The Alzheimer's Association and Delaware advocates urge the Governor and Secretary of the Department of Health and Social Services to reignite a State Plan Task Force, supported by and working in coordination with the state's first ever dementia coordinator staff position, as a first step in developing a new Plan.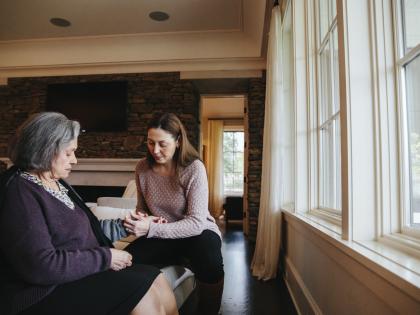 Wysiwyg
Support Dementia Caregivers by Expanding Access to Respite Care
Nearly 50,000 Delawareans are providing unpaid care to loved ones with Alzheimer's or another form of dementia. This unpaid care allows a large portion of the 20,000 people living with dementia in Delaware to live in the community instead of moving into more costly residential long-term care. Respite care provides a much-needed break for family caregivers. In cases where individual financial resources are insufficient, Delaware's current Respite Care Program steps in with limited but critical support. The Program funds can help provide occasional adult day care services or a personal care aide in the home a few times per month. This allows the family caregiver to take care of their personal medical issues, complete tasks outside of the home, or simply enjoy time off from the demands of caregiving. These funds are limited however, and the program is not dementia-specific. To serve the growing number of family caregivers, it is critical that legislators increase funding to the current program.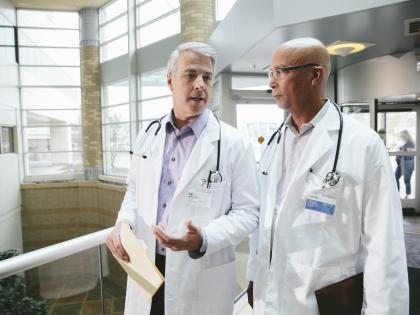 Wysiwyg
Equip Delaware with a Dementia Capable Workforce
People living with Alzheimer's and other dementia have unique needs that often make care delivery, communication and interaction more challenging and demanding. Direct care workers in long-term care settings, in-home services and adult day settings often do not have sufficient dementia-specific knowledge to effectively support those living with the disease. At the same time, adult protective services workers, law enforcement and first responders are among the first to be contacted and interact in situations of emergencies, abuse, neglect and financial exploitation. The Alzheimer's Association is working to educate Delaware lawmakers and other key decision-makers on the importance of a dementia-capable workforce and advocate for legislative and regulatory changes that bolster recruitment, increase retention, and enhance competency-based dementia training requirements of all direct care workers.
Sign Up to Learn About Advocacy Opportunities in Delaware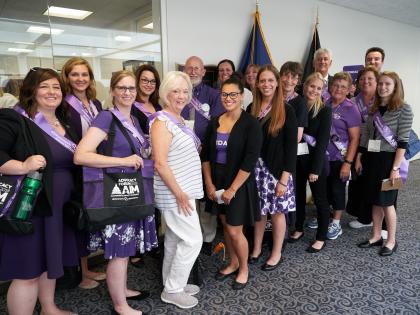 Raise your voice and take action in the fight. Sign up today to learn how you can advocate for these and other policy solutions in your state.
Find My Chapter
Together, we're making an impact. Find an Alzheimer's Association chapter in your community for more ways to engage.
Contact Us
State Affairs Contact: Katie Macklin
Phone: 302.584.2552 
Email: [email protected]
19,000
people living with Alzheimer's in Delaware
47,000
Delawareans are providing unpaid care
$253 Million
Medicaid cost of caring for people living with Alzheimer's (2020)
68 Million
increase in Alzheimer's deaths since 2000
12%
in hospice with a primary diagnosis of dementia
205.6%
increase of geriatricians in Delaware needed to meet the demand in 2050
Resources to Drive Change in Delaware
The following resources developed by AIM and the Alzheimer's Association will help you learn more about the issues impacting people living with Alzheimer's and their caregivers, how Delaware policymakers are addressing these gaps, and how you can help drive change.