Georgia State Alzheimer's Plan Overview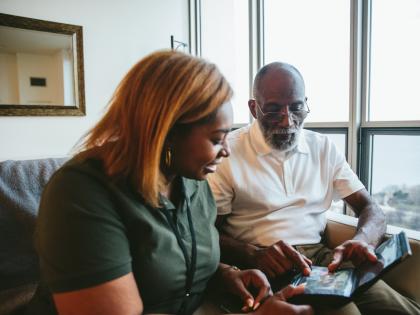 Wysiwyg
In 2013, the Georgia General Assembly established the Georgia Alzheimer's Disease and Related Dementias State Plan Task Force through passage of Senate Bill 14 to research the impact of the disease and develop a strategy to mobilize the state response to the growing public health threat posed by Alzheimer's. The Task Force included representatives from state agencies, local health departments, research institutes, law enforcement, care provider associations, elder law, and community organizations as well as state legislators, caregivers, community members, and individuals directly impacted by Alzheimer's. Building upon previous work completed by the Georgia Division of Aging Services, the Task Force solicited public input and drafted the Georgia Alzheimer's Disease and Related Dementias State Plan. The plan was published in June 2014. 
Georgia 2022 Policy Priorities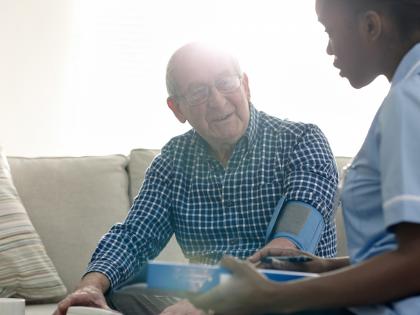 Wysiwyg
Strengthen Georgia's Dementia Care Network
The Alzheimer's Association is calling on the General Assembly to make a $1.25 million investment in the creation of a Dementia Care Specialist Program to meet the unique needs of people living with dementia. The program would employ a dementia care specialist (DCS) in each of the 12 Area Agencies on Aging (AAA) across the state. The Dementia Care Specialists will provide families with dementia-specific case management, provide tips and support to caregivers, and improve care coordination and transitions. They will also be able to provide community education and mobilize dementia-specific community resources and support services. In addition, the funding will allow for a full-time program lead in the Division of Aging to ensure program quality and integrated data collection across the program to maximize impact.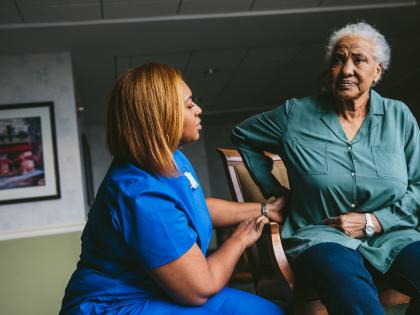 Wysiwyg
Ensure Eligible Residents in Assisted Living and Memory Care Have Access to Medicaid Programs
Many people diagnosed with Alzheimer's or another dementia may need specialized care in an assisted living facility or memory care setting at some point in their disease journey. However, Georgia state law currently prohibits these licensed settings from participating as a Medicaid Provider and therefore limits eligible residents from accessing Medicaid waiver services. The Alzheimer's Association is joining with other organizations to urge the legislature to update state law and ensure that Medicaid-eligible individuals can access critical Medicaid services regardless of where they reside.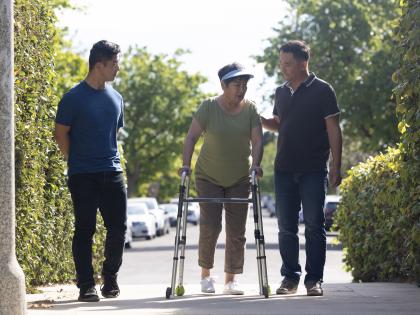 Wysiwyg
Improve Caregiver Support and Reduce Unnecessary Re-Hospitalizations by Passing the Georgia Caregivers Act
There is currently no standardized process across Georgia requiring hospitals and acute care settings to incorporate primary caregivers in the discharge planning process. The Georgia Caregivers Act is a commonsense, no-cost bill that requires hospitals to provide instructions on the medical tasks that family caregivers will need to do at home. By designating a caregiver, notifying them when their loved one is to be discharged, and instructing caregivers on how best to care for their loved one after being discharged, we can better support dementia caregivers and reduce unnecessary rehospitalizations. The Alzheimer's Association is joining with partners in asking the Georgia General Assembly to pass the Georgia Caregivers Act.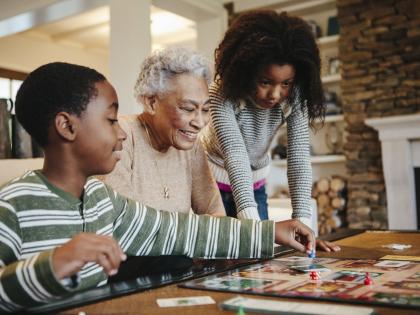 Wysiwyg
Raise Awareness of Georgia's Long-term Care Ombudsman (LTCO) Program
Nearly half (48%) of nursing home residents have a dementia diagnosis. The Long-Term Care Ombudsman (LTCO) program seeks to improve the quality of life for residents of long-term care facilities by working to resolve issues and advocate for long-term care residents statewide. Throughout the COVID-19 pandemic, it became apparent that many families with loved ones in these settings were unaware that ombudsmen were available to them. To ensure residents and families know about this important program, the Alzheimer's Association is supporting a funding request of $500,000 to create a statewide awareness campaign of this critical program.
Sign Up to Learn About Advocacy Opportunities in Georgia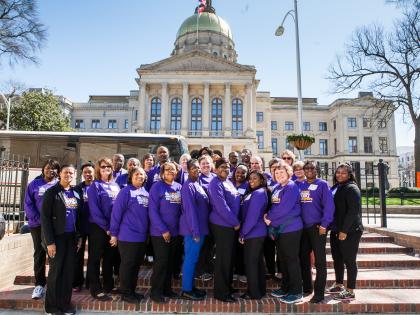 Raise your voice and take action in the fight. Sign up today to learn how you can advocate for these and other policy solutions in your state.
Find My Chapter
Together, we're making an impact. Find an Alzheimer's Association chapter in your community for more ways to engage.
Contact Us
State Affairs Contact: Nancy Pitra
Phone: 404.408.5571
Email: [email protected]
150,000
people living with Alzheimer's in Georgia
338,000
Georgians are providing unpaid care
$1.3 Billion
Medicaid cost of caring for people living with Alzheimer's (2020)
647 Million
increase in Alzheimer's deaths since 2000
21%
in hospice with a primary diagnosis of dementia
392.0%
increase of geriatricians in Georgia needed to meet the demand in 2050
Resources to Drive Change in Georgia
The following resources developed by AIM and the Alzheimer's Association will help you learn more about the issues impacting people living with Alzheimer's and their caregivers, how Georgia policymakers are addressing these gaps, and how you can help drive change.