Oklahoma State Alzheimer's Plan Overview 
Wysiwyg
In May 2008, the Task Force on the Effect of Alzheimer's Disease was established pursuant to Senate Bill 2186. Tasked with examining the impact of Alzheimer's disease and forming a plan of action within the state, the Task Force included representatives from the private sector, community organizations, and state agencies as well as caregivers, state legislators, and individuals living with Alzheimer's. In September 2009, the Final Report of the Task Force on the Effect of Alzheimer's Disease in Oklahoma was published. In 2015, Governor Mary Fallin issued Executive Order 2015-32 to authorize an update to the state plan. The Oklahoma Alzheimer's State Plan 2016 was published in February 2016. In 2023, the Oklahoma State Health Department, in partnership with a coalition of stakeholders, published an update to the state Alzheimer's plan for 2023-2027. The updated state plan details four goal areas for advancing brain health across the state.
Oklahoma 2023 Policy Priorities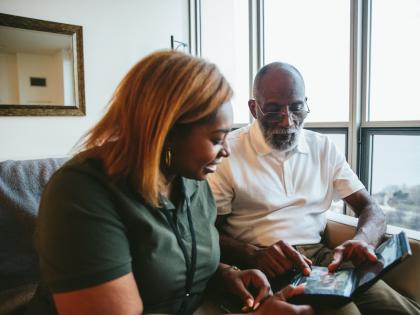 Wysiwyg
Establish a Dementia Coordinator Position 
Numerous state agencies in Oklahoma administer a variety of programs that are critical to people with dementia and their families, including Medicaid, adult protective services, and health professional and facility licensure. However, these efforts are often siloed, with multiple state agencies working separately from one another hindering the ability of Oklahoma to evaluate the effectiveness of policy efforts and ensure proper implementation of the State Alzheimer's Plan. In an effort to ensure coordinated services throughout the state, the Alzheimer's Association is advocating for the establishment of a Dementia Coordinator position within the State Health Department. The Dementia Coordinator will serve as a liaison between state agencies, the governor, the legislature, and private stakeholders to ensure the state has an effective approach toward addressing the growing rate of Oklahomans with dementia.
Sign Up to Learn About Advocacy Opportunities in Oklahoma
Raise your voice and take action in the fight. Sign up today to learn how you can advocate for these and other policy solutions in your state.
Find My Chapter
Together, we're making an impact. Find an Alzheimer's Association chapter in your community for more ways to engage.
Contact Us
State Affairs Contact: Margaret Shaffer
Phone: 405.279.9191
Email: [email protected]
67,000
people living with Alzheimer's in Oklahoma
135,000
Oklahomans are providing unpaid care
$516 Million
Medicaid cost of caring for people living with Alzheimer's (2020)
178.2%
increase in Alzheimer's deaths 2000-2019
18%
in hospice with a primary diagnosis of dementia
557.7%
increase of geriatricians in Oklahoma needed to meet the demand in 2050
Resources to Drive Change in Oklahoma
The following resources developed by AIM and the Alzheimer's Association will help you learn more about the issues impacting people living with Alzheimer's and their caregivers, how Oklahoma policymakers are addressing these gaps, and how you can help drive change.