Utah State Alzheimer's Plan Overview 
Wysiwyg
In March 2011, Utah's state legislature passed Senate Bill 48, establishing the Utah State Plan Task Force within the Utah Division of Aging and Adult Services. Tasked with assessing the current and future impact of Alzheimer's disease and other dementia within the state, the Task Force included representatives from state agencies, homecare providers, health plans, and elder law, as well as state legislators, an individual living with the disease, caregivers, and the lieutenant governor. After collecting public feedback, the Task Force drafted Utah's State Plan for Alzheimer's Disease and Related Dementias: Action Plan for 2012-2017, which was published in January 2012. In early 2018, Utah updated their plan, releasing Utah's State Plan for Alzheimer's Disease and Related Dementias, 2018 to 2022.
Utah 2022 Policy Priorities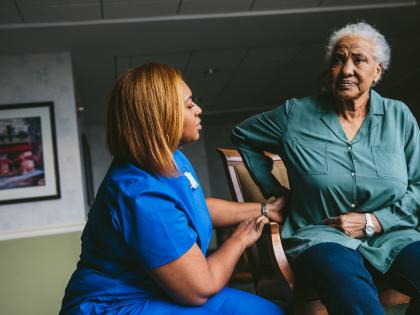 Wysiwyg
Strengthen Dementia Care in Utah 
Utahns with dementia often have trouble accessing long-term care due in part to low Medicaid reimbursement rates. Since long-term care providers often have difficulty maintaining and attracting employees, fewer people living with dementia are able to utilize this service. Case management is also a critical tool that allows people living with dementia to better access individual services if they are living in their home or community. That is why the Alzheimer's Association is calling on state lawmakers to approve legislation to increase reimbursement rates for long-term care and case management and strengthen dementia care in Utah.
Sign Up to Learn About Advocacy Opportunities in Utah
Raise your voice and take action in the fight. Sign up today to learn how you can advocate for these and other policy solutions in your state.
Find My Chapter
Together, we're making an impact. Find an Alzheimer's Association chapter in your community for more ways to engage.
Contact Us
State Affairs Contact: Jeremy Cunningham
Phone: 801.265.1944
Email: [email protected]
34,000
people living with Alzheimer's in Utah
97,000
Utahans are providing unpaid care
$185 Million
Medicaid cost of caring for people living with Alzheimer's (2020)
119 Million
increase in Alzheimer's deaths since 2000
19%
in hospice with a primary diagnosis of dementia
356.0%
increase of geriatricians in Utah needed to meet the demand in 2050
Resources to Drive Change in Utah
The following resources developed by AIM and the Alzheimer's Association will help you learn more about the issues impacting people living with Alzheimer's and their caregivers, how Utah policymakers are addressing these gaps, and how you can help drive change.