Massachusetts State Alzheimer's Plan Overview 
Wysiwyg
In 2010, Governor Deval Patrick directed the Executive Office of Elder Affairs, in partnership with the Alzheimer's Association Massachusetts/New Hampshire Chapter, to draft a state plan addressing Alzheimer's disease within the state. In response, these two agencies convened an Advisory Committee that included families and individuals impacted by the disease as well as representatives from state and local health and human services agencies, councils on aging, academia, public safety agencies, and professional caregiver associations. Gathering public input, the Advisory Committee published the Massachusetts Alzheimer's Disease and Related Disorders State Plan in February 2012. Following 2018 legislation (Chapter 220 of the Acts of 2018), a new State Alzheimer's Plan was released in April 2021.
Massachusetts 2022 Policy Priorities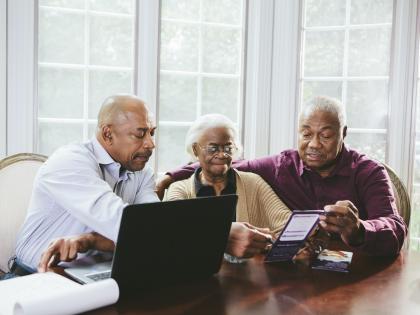 Wysiwyg
Increase Access to Comprehensive Care Planning by Approving H.739 / S .415
Alzheimer's and other dementia pose significant challenges and costs to families and the health care system. Too often, Massachusetts families are exhausting their financial resources to care for loved ones living with dementia and then requiring state assistance through MassHealth (Medicaid). In 2020, Massachusetts spent more than $1.75 billion caring for people living with Alzheimer's in the MassHealth program — a figure expected to rise by over 15% by 2025. Comprehensive care planning, however, can help people living with dementia reduce unnecessary rehospitalizations, improve the management of other chronic conditions and reduce premature nursing home placement. The Alzheimer's Association is calling on the legislature to pass H.739 / S.415, which would require Massachusetts Senior Care Options (SCO) plans to provide comprehensive care planning services to SCO members who have been diagnosed with Alzheimer's disease and other dementias.
Sign Up to Learn About Advocacy Opportunities in Massachusetts
Raise your voice and take action in the fight. Sign up today to learn how you can advocate for these and other policy solutions in your state.
Find My Chapter
Together, we're making an impact. Find an Alzheimer's Association chapter in your community for more ways to engage.
Contact Us
State Affairs Contact: Chelsea Gordon 
Phone: 617.868.6718
Email: [email protected]
130,000
people living with Alzheimer's in Massachusetts
284,000
Bay Staters are providing unpaid care
$1.8 Billion
Medicaid cost of caring for people living with Alzheimer's (2020)
411 Million
increase in Alzheimer's deaths since 2000
23%
in hospice with a primary diagnosis of dementia
62.1%
increase of geriatricians in Massachusetts needed to meet the demand in 2050
Resources to Drive Change in Massachusetts
The following resources developed by AIM and the Alzheimer's Association will help you learn more about the issues impacting people living with Alzheimer's and their caregivers, how Massachusetts policymakers are addressing these gaps, and how you can help drive change.